Why Australian families are struggling to enter the market.  
Australia is amid a household affordability crisis. Potential first-home buyers face an increasing deposit hurdle which has subsequently delayed their ability to secure lending and start building equity through home ownership further widening the wealth gap between home owners and home occupiers. This deterioration of first home ownership can primarily be explained by a worsening dwelling price to income ratio. The relative cost of purchasing a first home when compared to average income rates has increased, in other words income growth has failed to keep pace with inflating household prices.
The data shown below compares the rate of financial commitments for first-home purchase against investor purchase over the past few decades. Chart A from the Australian Bureau of Statistics shows a trending decline in the number of loans taken to finance first home purchase to a rate of 13.8% in December of 2016. Further, in a submission to the RBA, ANZ had found that the rate of loans formed for first-home ownership has shrunk to just above 10% as shown in Chart B. The issue is compounded further as its estimated that investors are becoming more active in the market attracted by lower borrowing costs which has pushed prices higher.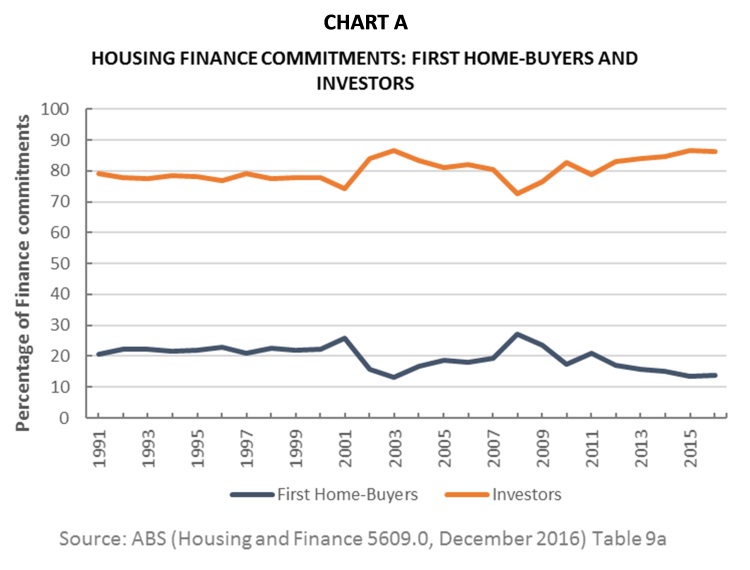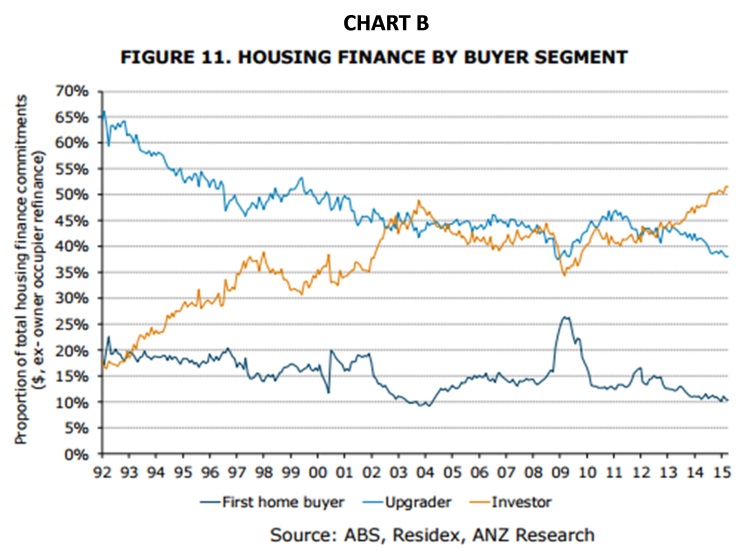 Factors influencing first-home ownership's are:
Capital growth: Real estate prices increase at around 2% greater than house hold incomes. Compound effect; it is therefore getting harder to save for a deposit.
Developers / agents: Capitalising on market conditions, with overzealous pricing. Focusing on investor sales. Incorrect balance (investors | owner occupiers) contributes to long term adverse-social-impact. Refer to post: Can Property Prices Be Fairer?
Supply of properties: Estate planning, land releases and council approvals. We are NOT building enough self-sustaining communities
As consequence of unaffordable housing prices, would-be first-home purchasers face a longer saving period or must exercise more frugal budgeting. Per the Bankwest First Time Buyer Deposit Report 2016, a typical Australian resident must save for an average of 4.4 years to save for a deposit, longer still in the populous states of NSW (5.7 years) and VIC (4.7 years).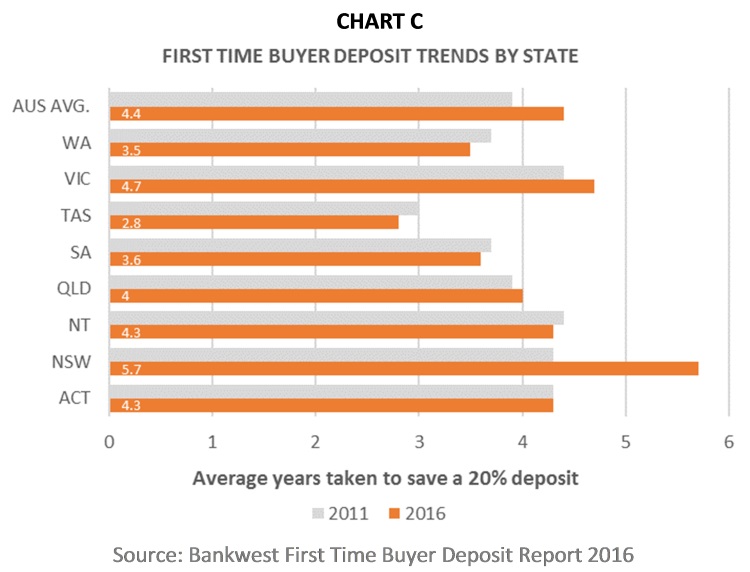 This increasing trend can be attributed to a worsening Dwelling Price-to-Income Ratio as income growth has not grown in tandem with housing prices as demonstrated in Chart D, in other words it is relatively more expensive for prospective first-home buyers than it has been in the past. The issue is further compounded by an increase in activity in investors attracted by the recent favorable lending environment and strong expected rates of capital growth.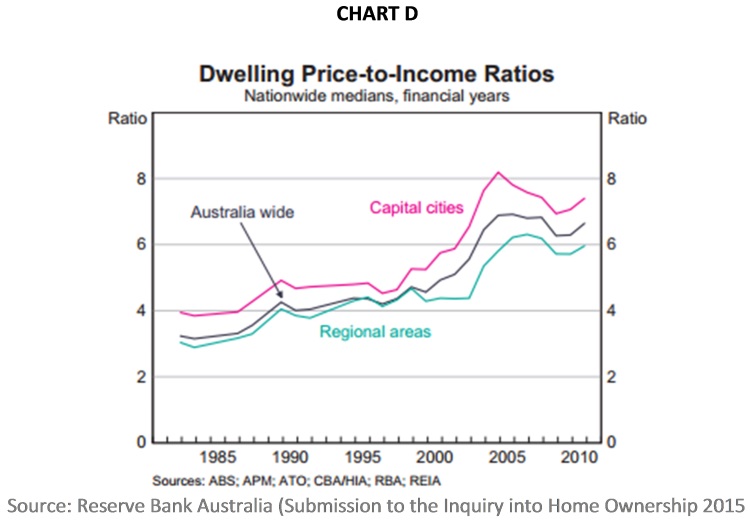 A solution to the crisis continues to be a core policy issue amongst Australians and policymakers. However, there continues to exists a mismatch between the private and public sectors, as developers seek to maintain and improve sales margins by increasingly targeting investors both domestic and foreign through marketing rather than owner occupiers.
Sources:
Reserve Bank Australia Submission to the Inquiry into Home Ownership, 2015
ABS Data
Bankwest First Time Buyer Deposit Report, 2016
ANZ Submission to the House of Representatives inquiry on Home Ownership, 2015.
Posted By: Christopher Colusso | Property Graduate