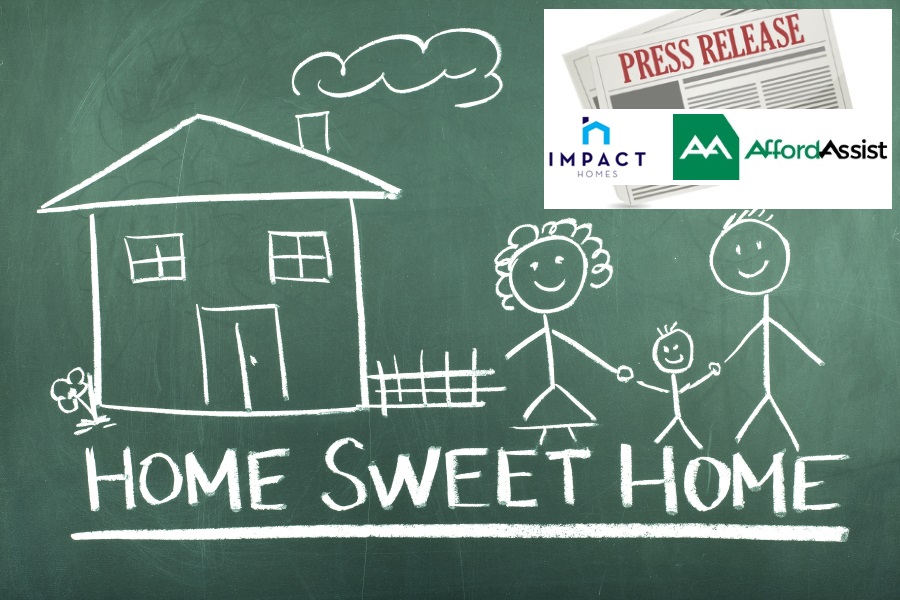 Queensland's largest house builder and 14th largest nation-wide has announced its support for affordassist.com.
AffordAssist is an affordability program exclusively for first-home buyers; providing the much-needed deposit solution: First-home buyers can buy a property with no-deposit.
According to Robert Harder, CEO, of Impact Homes, "AffordAssist is an ideal fit and consistent with the company's core values; providing new services to help more first-home buyers get into the market."
Australia's first-home ownership is at a historic low and declining. Real estate values are increasing at a greater rate than household incomes. Making saving for a deposit increasingly more difficult. The first-home buyer market is now in crisis! Thus putting at risk the great Australian dream of owning a home, impacting on our social-fabric and our economy. Home ownership is more than four walls, it represents; the great Australian dream:
Family safety/stability

Break free from renting

Build wealth

Funds retirements, and

Overall less financial burden on our social systems.
The AffordAssist program is designed to be sympathetic to first-home buyers.
"It is the perfect collaboration. Impact Homes, know the industry has changed and corporations must do more to help first-homer buyers. We see duty-of-care different, in that, it extends to the entire community. And, in keeping with; 'more than a roof over your head' philosophy we continue to expand into new services hence our support for the AffordAssist first-home buyer program.
First-home buyers will benefit from our solid reputation and reliability which draws upon over 20 years of experience and success. We have surpassed the milestones of building over 3,500 quality homes." Said Mr Harder.
He continues, "AffordAssist is a fair program offering a number of consumer protections, including: Fair Pricing Model; Independent Property Review (IPR); and Serviceability Assurance. With these key controls, Impact homes can help first-home buyers ."
About Impact Homes
Impact offers a full range of homes, including houses, duplexes and townhouses for the real estate Investor or Owner Occupier. With over 55 designs to choose from you'll find that these quality properties are easily maintained, well priced, full turnkey properties that are in high demand. Our standard designs offer full turnkey packages with inclusions that other builders may regard as extras.
Our prices are highly competitive and these home come with our comprehensive inclusion packages consisting of a variety of sought after interior features including double air conditioning, security screens throughout, window coverings, stainless steel appliances, engineered stone kitchen benches, superior insulation, and extensive lighting plans (all of which are highly energy efficient). Energy efficiency and sustainability are built right in so all houses are a minimum of 6-Star energy rating.
As for the outside, we also provide full landscaping packages in the purchase price. These include driveway, concreted external areas, termite barriers, clotheslines, lawns and feature garden beds… everything right down to the letterbox! You'll see Impact Homes investment properties in communities from Queensland, down south in the Hunter Valley, NSW and Victoria. The Impact Homes property footprint is growing every day.
The company is privately owned by Australians and operates in Australia. Impact employs over 170 people and operates four distinct business units providing services throughout Queensland, New South Wales and Victoria.
Links to http://www.affordassist.com/ and http://impacthomes.com.au/
Anthony Aoun